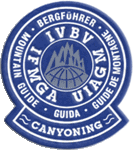 Garda Lake – Idro Lake – Gardasee – Storo – Ledro Valley

Spend a day sliding down natural hydro slides, rappelling down waterfalls and getting some awesome jumps into crystal-clear pools.
Tours Every day – From May to October
Our style:
– Small groups with limited number of participants for an authentic experience
– Respectful and quality accompaniment in a serene and discreet atmosphere with no rush
– Non-mandatory jumps
– We dress you with double floating neoprene wetsuits (11 mm), overalls + jacket + socks, washed and dried every tour
– Daily Tours
– Meeting times agreed upon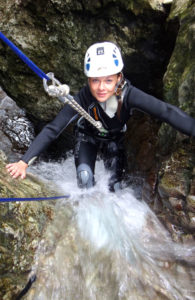 What you need:
– No fear in the water.
– A minimum level of fitness.
– Minimum age is 14.
You will be supplied with:
– Complete equipment, neoprene wetsuits, neoprene socks, helmet, climbing harness.
– Professional Alpine Mountain Guides look after your safety and fun.
– Day and starting hour at your choice.
What to bring:
– Sportshoes (trainers or trekkers) – they get wet!
– T-shirt (better in sintetic).
– Swimrobe and a towel.
– Dry shoes for after canyoning (even sandals).
Bookings by phone call or email communicating height and weight of the participants.
Canyoning Tours Lake Garda Lake Idro
Info & Bookings
+39-389-1872054 (Davide)
+39-338-8328830 (Paola)
www.gardacanyon.it
Email: info@gardacanyon.it


WhatsApp
Meeting Points GPS:
Passo Ampola (Val di Ledro) – N 45.8644  E 10.6464
Storo – N 45.8446  E 10.5834
Anfo (Lake Idro) – Spiaggetta – N 45.7648  E 10.4962
Tignale – N 45.7278  E 10.7067
We do offer tours on these canyons:
Daily tours to some of the most entertaining canyons of medium difficulty around Lake Garda.
– Palvico Integral
– Rio Nero – Jurassic Lower
– Tignale
– Brentino
By request we can organize more difficult tours for groups who already have canyoning experience.
– Vajo Orsa Integral
– Rio Nero Full
488