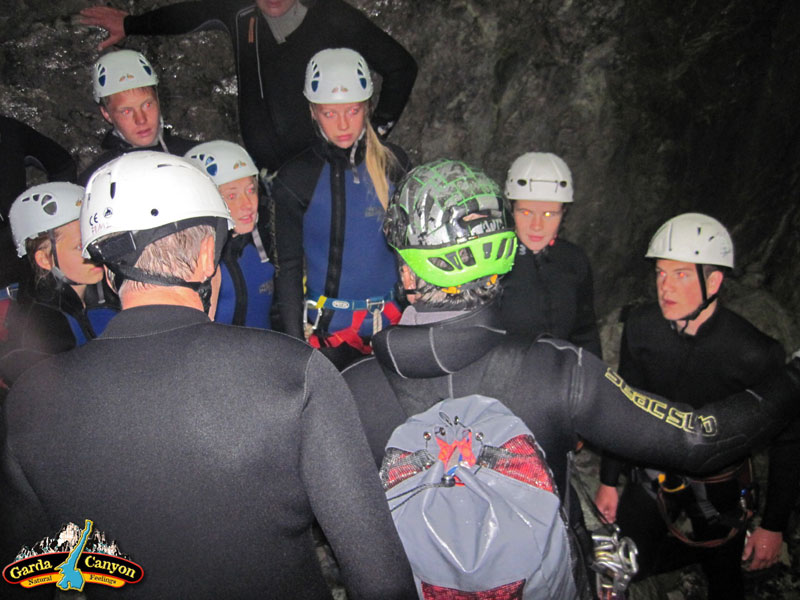 What is Canyoning?
Canyoning is contact with a primordial nature in a pristine environment. To experience the beauty of places and the energy of water.
We will discover a normally inaccessible world between sculpted rocks and crystal clear waters, following the path that the water has traced.
In these natural canyons you walk in the stream, you slip on the rocks smoothed by water, you dive into deep natural potholes and you go down with the rope.
Is the first time? Anyone with a minimum of sportiness, adaptation and water lover is able to face this activity.
In all the descents, UIAGM Alpine Guides with Canyoning specialization, take care of you. Safety, experience and discretion are the basis of our work.
How is a canyoning descent organized?
Booking is essential to prepare the personal equipment of each participant.
On the selected day, arrive at the meeting point 10 minutes before the agreed time.
Don't forget a synthetic t-shirt, the worn costume and the comfortable (wet) sports shoes to wear over neoprene socks.
At the starting point we will dress the equipment: floating double suits – 11mm on the body – and neoprene socks, helmet, harness with snap hooks.
Entering the water, there is an important briefing on progression and behavior techniques to be held in the canyon.
The descent will be conducted safely and without haste by Canyoning specialized Alpine Guides who will follow you constantly helping you.
I never did canyoning. I can?
The only capacity required is to be at ease in the water and have an attitude of a minimum of sport.
Everything else will be shown by the Alpine Guides. There is no need to be a great swimmer, the neoprene double suit (11 mm) optimally helps buoyancy. A life jacket would be dangerous in the jumps due to the whip and cumbersome effect in the movements.
Do I always have to dive in?
The dives and slides are never mandatory, you can always be lowered with the rope regardless of the height.
IN NO EVENT WILL THE GUIDES OBLIGATE TO JUMP.
Dives and slides are carried out under your own and exclusive decision and responsibility.
Each participant decides independently, taking responsibility for it.
Even if the dive is fun, it can always be dangerous if not done correctly.
If you are unsure of your abilities choose the rope.
And if I never went down with a rope?
If you've never been on a rope, the guides will show you how to do it on each tour.
All technical maneuvers will be carried out by the Alpine Guide, you will only have to keep the balance position, with the feet spread.
Does canyoning need to know how to swim well?
You don't need to be a great swimmer, just have a minimum of water and love water.
The neoprene double suit (11 mm) allows you to float without problems.
Who accompanies me?
Only UIAGM Alpine Guides with Canyoning specialization take care of your safety and your enjoyment.
Each of them is a canyoning professional with many years of experience and thousands of descents.
Respectful and quality accompaniment in a serene and discreet climate.
If it's raining?
Canyoning is a possible activity even in case of rain. It gets wet anyway.
Tours are suspended only if the water level in the route puts safety at risk.
This usually occurs after heavy rains and it is up to the guides to make this decision.
This decision is made and communicated normally the previous evening or in any case before you leave home.
Can I go canyoning with glasses?
Those who wear glasses can simply tie them with a cord that we can supply. Even contact lenses are good, you need a little confidence in staying in the water with them and remembering to close your eyes in the dives … (some guides use them regularly).
Video Photo
We have digital underwater cameras to rent, come with micro SD memory cards. In addition, the helmets are designed to mount the Gopro. Bring them as well.
Equipment
We supply all the necessary equipment for each descent: Double wetsuit, overalls + jacket and socks in neoprene, canyoning harness with lanyard and carabiners, helmet and if you want even gloves.
Our equipment is constantly renewed and verified.
At each tour NEOPRENE MUTES AND SOCKS ARE WASHED AND DRYED to ensure comfort and hygiene.
Is there an age limit for canyoning?
The minimum age is 14 years or a height of 140 cm and a weight of 40 kg if the parents are present.
Can I go canyoning with physical problems?
Contact us, one of our guides will clarify any doubts by planning a tour based on your motor skills. If you have any particular pathologies, tell them.
Where are the canyoning routes we offer?
The canyons are mainly located between Lake Garda, Lake Idro, Val di Ledro and Storo, between Trentino, Lombardy and Veneto.
The canyons are named after the stream that flows through them, we avoid misleading and not very respectful fantasy names.
The canyon are wild places normally inaccessible without the accompaniment or knowledge of the specific techniques to be able to go along them.
495