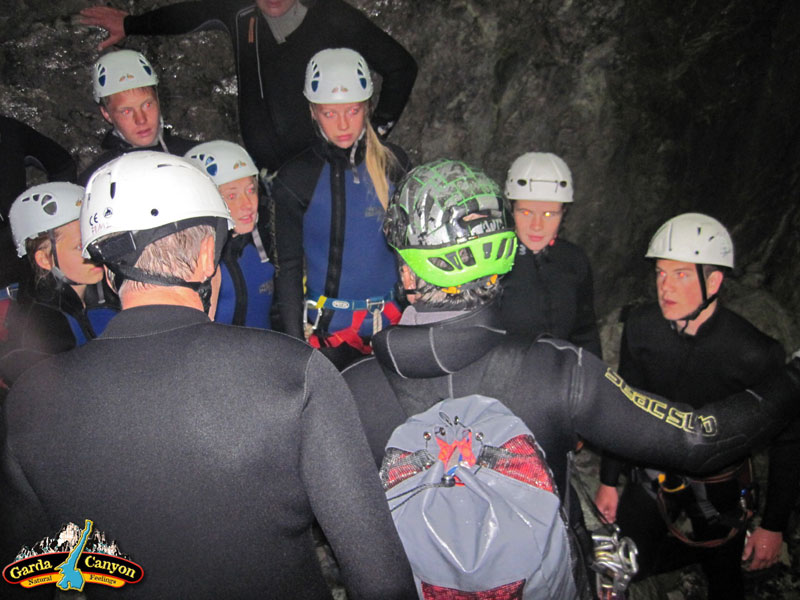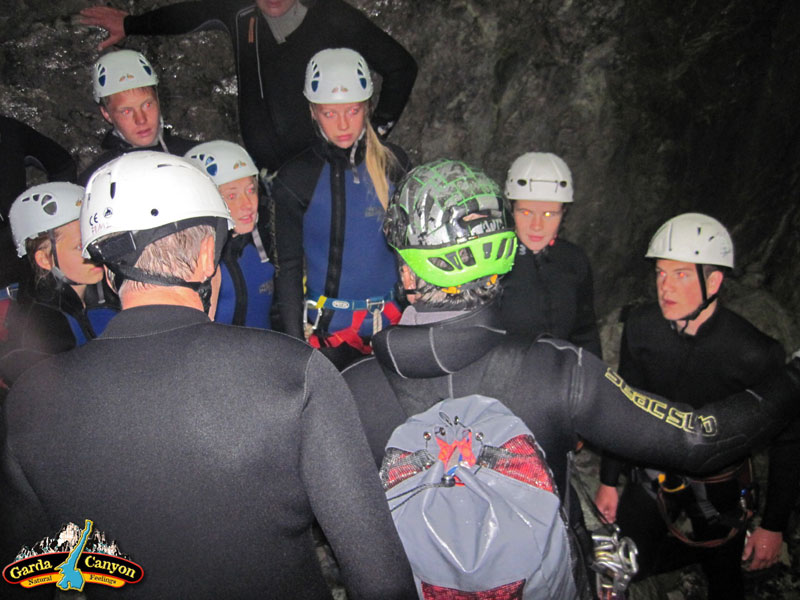 What is Canyoning?
Canyoning is a primordial contact with nature, it's fun, it's adventure, it's pristine environment.
We descend wonderful natural canyon. We discover a normally inaccessible world of marvelous sculptured rocks and clear waters, following the paths that water has traced for us.
During the excursion you can: swim, dive, slide, abseil down waterfalls with rope. We will tear for a moment from the "normal" daily life in this very, very wet adventure …
Is the first time?
Often what is new intimidating, but anyone with a minimum of sportsmanship and water lover is able to tackle this task without problems.
In all our descents Professional Canyoning Guides will take care of you.
Security, experience, discretion, have for many years the basis of our work.
How is organized a canyoning tour?
It's always necessary reservation. The chosen day, remember to arrive on the place with 10 min. in advance of the pre-set and agreed time.
Do not forget a synthetic T-shirt, swim wear and sports shoes. At the starting you get clothed with equipment (wetsuits floating double – 11mm on the body – and neoprene socks, helmet, harness). Upon entering the water, followed by an important briefing on the techniques of progression and how to behave in the canyon.
The descent will be driven more safely by our mountain guides who will accompany you constantly helping in a careful, not doing never lack excitement and fun.
I never did canyoning. Will I be able?
This is the first thought of all those who come to canyoning the first time. The only required capacity is to be at ease in the water and have an attitude a sports min.
Everything else you will be taught by our mountain guides, you will find it easy and fun. (No need to be a skilled swimmers, the suit double neoprene optimally helps the floating) advice from our booking center the level that suits your skills and remember: hard does not always correspond to fun …
I always have to dive – jump?
Absolutely not, jumps and slides are never mandatory, everyone can always be lowered with rope regardless of the height.
IN NO EVENT  THE GUIDE WILL REQUIRE TO JUMP AND CAN NOT SUPERVISE THE CORRECT PERFORMANCE.
All dives and slides are made under its sole decision and responsibility.
Each participant decides upon taking responsibility.
Remember though fun jumps can always be dangerous if not done properly.
If you are unsure of your skills choose the rope without doubts.
And if you have never come down with a rope?
No problem if you have not come down with the rope, in every tour our guides will teach you a simple lesson. All technical operations will be carried out by the Alpine Guide, you will just have to learn the position of equilibrium. You will find it surprisingly easy and fun.
In canyoning you must know how to swim well?
No, you do not need to be great swimmers, just have a minimum of acquatic and love the water. Neoprene wetsuit in double make you floating smoothly. Anyway the swims not exceed the length of a normal pool.
Who is leading me?

For every tour our Mountain Alpine Guides will take care of your safety and your enjoyment. Each of them is a canyoning professional with many years of full time work experience. All guides of our team are highly specialized and constantly updated. They have amassed in thousands descents a huge knowledge of the canyon in which they work, revealing the most intimate secrets.
SAFETY, SENSITIVITY ', DISCRETION, have always been the foundation of our work.
If rains do?
Canyoning is an activity also possible in case of rain. We'll get wet anyway.
The tours are suspended only if the water level in the canyon can create danger.
This usually occurs after heavy rains, in this case the tours are suspended, but only by decision of the guides.
Canyoning is suitable for women?
The ability of women's adaptation to new situations is a great advantage, more than half of our customers are women and they do it as well if not better than the boys.
Can I do canyoning with glasses?

Yes, of course, those who wear glasses can simply tie them with a rope. Contact lenses also are fine, just need a little 'confidence in being in the water with them and be recalled to close their eyes in diving … (some of our guides use them regularly).
Video pictures – Want to capture the most exciting moments?
No problem, we have underwater digital cameras to rent for more daring shots, come with the Micro SD memory cards.  If needed, we also provide the card.
We have also helmets ready with support for Go-Pro Camera.
Equipment – We provide you with all the necessary equipment for every descent:
double wetsuits, overalls + jacket and neoprene socks, safety harness, helmet etc ..
Our equipment is constantly renewed and verified.
EVERY TOUR, WETSUIT AND NEOPRENE SOCKS ARE CONSTANTLY WASHED AND DRIED AS 'TO ENSURE MAXIMUM COMFORT AND HYGIENE.
Is there an age limit for canyoning?
Welcome families with kids! The minimum age for simple canyon is 14 years or at least a 'height of 145 cm. and 50 kg. of weight.
For those more demanding it prompted a meeting with the guides. To the maximum age: we have already had clients in their seventies …
I can do canyoning with a physical handicap?
Our philosophy has always been: "Canyoning for all." If you have a physical handicap contact us, our guide will clarify every doubt planning a tour to suit your motor skills.
In many years of descents we had many customers with physical disabilities and share with them a descent has always been for us one of the biggest satisfactions of our work.
Visualizzazioni 366